SONGLINES & SIGHTLINES
The Leo Kelly Blacktown Arts Centre
Exhibition: Until Saturday 2 July 2022
Open Tuesday – Saturday 10.00am – 5.00pm
Artists: Leanne Mulgo Watson, Peter Rush, Erin Wilkins and Bundeluk Watson
Curator: Tian Zhang
Assistant Curator: A'isyiyah Prahastono
Hosts: Alex Byrne, André Shannon, Annie Shin, Esperanza Cardenas, Ianni Huang, Jamie Eastwood, Kelcie Bryant, Margo Carter, Mary Nguyen, Narjis Mirza, Nico Bauer, Suzanne Claridge, Talitha Hanna and Tina Barahanos.
Songlines & Sightlines returns for another year as part of the Blacktown City Festival.
Take part in this interactive exhibition where you can draw directly onto the walls of The Leo Kelly Blacktown Arts Centre.
Artists and Dharug knowledge holders Leanne Mulgo Watson and Erin Wilkins, with urban sketcher Peter Rush, depict our city and the places we love alongside plants, animals and Dharug creation stories.
Visitors can colour-in or add their own drawings of local sites to contribute to this large-scale community collaboration of Blacktown past, present and future.
All ages welcome and no experience necessary.
Materials provided.
Image: Hypereel Brand. Artwork: Leanne Mulgo Watson, Peter Rush, Erin Wilkins and Bundeluk Watson, Songlines & Sightlines, 2021
Listen
Click here to listen to the artists talk about the images and stories in Songlines and Sightlines.
Leanne Mulgo Watson
Leanne Mulgo Watson is a Dharug artist-educator based in Blacktown who has illustrated children's books including Cooee Mittigar and contributed to Young Dark Emu. Leanne is the daughter of Aunty Edna Watson. She has been a director of the Dharug Custodian Aboriginal Corporation for many years. Cooee Mittigar is her first book. She says "I had always wanted to create books to share our knowledge, as education is the key to our culture staying strong".
Image: Kylie Christian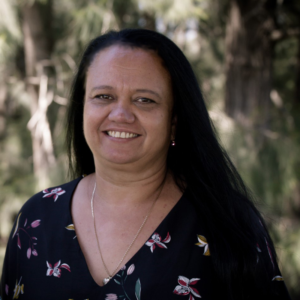 Erin Wilkins
Erin Wilkins is a strong and proud Dharug woman from the Hawkesbury River.
Erin was born and raised in western Sydney, and enjoys being on Country with her sons and grandchildren, connecting with her culture and participating in cultural practices.
Her passion is to continually work towards promoting awareness and strengthening connection to Culture and Country through education and engagement with people of all ages and backgrounds.
"Bringing people on a journey of understanding and respect while leading them into their own pathways and journeys of knowledge, awareness and acceptance is what I work towards".
Image: Kylie Christian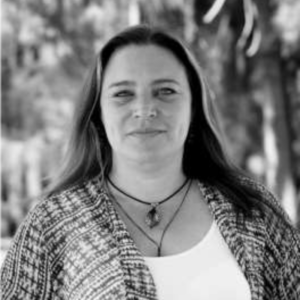 Bundeluk Watson
Bundeluk Watson is Aunty Edna Watson and Allan Watson's son. He was a Dharug artist and an educator who grew up in western Sydney and spent many years protecting Dharug country. He spent his adult life in the Blue Mountains. Bundeluk started painting with his mother and Aunty and continued to paint for many years travelling all over the world sharing Dharug Knowledge and culture.
Peter Rush
With an interest in the urban environment, Sydney-based artist Peter Rush sketches familiar places and everyday life in an insightful way. An architect by trade, Rush works with materials that range from pen and paper to used cereal boxes to capture the mood, expression and texture of city streets.
Image: Joshua Morris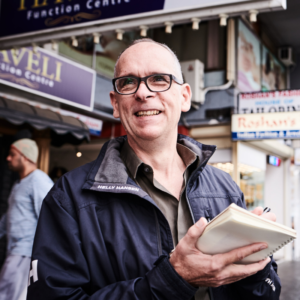 Tian Zhang
Based on Dharug Country in western Sydney, Tian Zhang is a curator, writer, facilitator and collaborative artist working at the intersections of art, cultural practice and social change. Her interdisciplinary practice is underscored by conversation, criticality, solidarity and joy. She has more than ten years' experience producing culturally attentive and site responsive projects. With a deep commitment to grassroots and collective methodologies, Tian is a founding co-director of Pari, a collective-run gallery and community space for Parramatta. In 2021, Tian joined the Artistic Directorate of Next Wave in a new co-artistic leadership model for the organisation. She was previously Chair and co-director at Firstdraft and has co-founded and contributed to arts collectives in Meanjin/Brisbane. Tian is currently a board member of Utp.
Image: Zan Wimberley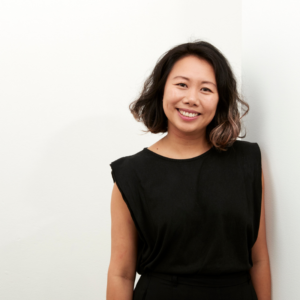 2021 Songlines & Sightlines Exhibition
Note: Aboriginal and Torres Strait Islander viewers are advised that this exhibition may contain images of and/or reference to deceased persons.
Proudly funded by the NSW Government through Create NSW in association with Blacktown City Council and Blacktown Arts.