Join in the fun at Blacktown Arts these school holidays! We have an extensive school holiday workshop program on offer for children and families.
Create your own animal sculpture, make an ocean-inspired acrylic painting, experiment with mark making techniques or learn Chinese ink brush painting in one of our exciting new workshops.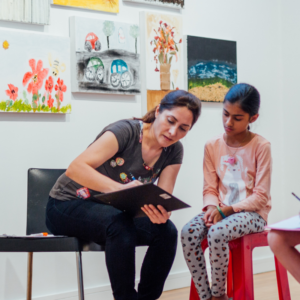 Sima Alikhani
Sima Alikhani is a contemporary artist born in Iran and living in western Sydney. Sima completed her visual arts degree at the university of Tehran where she worked as an art teacher for many years. Since coming to Australia, she has worked as an education support worker in schools around western Sydney. Art is Sima's passion and she uses her artmaking as creative therapy, helping students to express emotions and reduce stress.  
Sima is interested in inspiring audiences and participants to look carefully at the world around them, and to discover beauty in unusual places.  Her own artwork often focuses on women's issues, nurturing, and imperfection. Sima has valuable experience working with local artists in the Blacktown area and has been involved in many collaborative projects involving children and families .
Find Sima Alikhani on Instagram @sima.alikhani2
Family painting – Canvas creations with Sima Alikhani
Cost: $20 per family of two (adult must accompany child) and $10 for each additional child
Age: All ages – children and families welcome
Dates and times:
Wednesday 7 April
10.30 am – 1.00 pm
Book now
Dr Fan Dongwang
Dr Fan Dongwang graduated from Shanghai School of Arts and Crafts following comprehensive training in traditional Chinese art forms. He obtained a Master of Art at COFA, (now UNSW Art and Design) and also a Doctor of Creative Art at Wollongong University. He has been awarded the Mosman Art Prize, Festival of Fisher's Ghost Art Award, Liverpool City Art Prize, Willoughby City Art Prize, Ian Potter Cultural Trust Grant, and the Art on The Rocks Prize. Fan also designed two large Dog lanterns as part of City of Sydney's Lunar New Year Lantern Exhibition in 2018, 2019 and 2021.
Find Fan Dongwang on Instagram @fandongwang
Plum blossoms – Chinese ink brush painting workshop
Cost: $30 per child
Age: Primary school aged children
Dates and times:
Thursday 8 April
10.30 am – 1.00 pm
Book now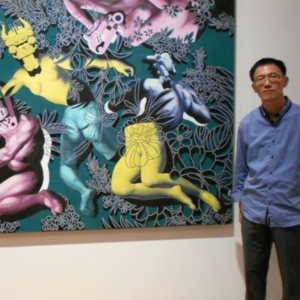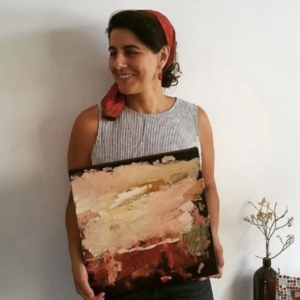 Daniela Cristallo
Daniela Cristallo is an emerging contemporary abstract artist who lives and works in Sydney. She predominantly works with acrylic and oilstick on canvas and board, with a long time interest in drawing with mixed media on paper. Daniela is known for her richly textured paintings that are inspired by the Australian landscape which strongly draw upon her plein air studies. Back in the studio, she explores these places with deeper mediations using the materiality of paint to allow these original forms to meet in a more primal and inventive way.
Her connection to the many places travelled and experienced attempts to convey an intimate subjectivity that evokes emotion and a sense of place through the language of colour, texture, mark and mood. Daniela's work is exhibited regularly and has been a finalist in a significant number of art awards and accrued in private collections both nationally and internationally.
Find Daniela Cristallo on Instagram @danielacristalloartist
Making Your Mark with Daniela Cristallo
Cost: $15 per child
Age: 7 – 12 years old
Dates and times:
Friday 9 April
10.30 am – 1.00 pm
Book now
Irina Iris
Irina Iris is an artist and art educator, born in Belarus and now based in Sydney.  She studied at art school as a child,  graduated architectural college and received a Bachelor of Architecture in Europe. In Australia, she graduated from a Diploma in Visual Art with Distinction from Nepean Art and Design Centre.   Irina is interested in realistic and intuitive art and loves nature and Plein Air painting. Her passion is also in illustration and painting in a decorative style. 
Irina is the founder of Iris Art Studio for children where she runs online and in–studio workshops and term lessons for children.  She firmly believes that art makes everyone happy and every child must have the chance to be an artist, to explore the world through visual images and unlock their own unique creativity.
Find Irina Iris on Instagram @iris_art_studio
Fun with Ceramics and Drawing
Cost: $15 per child
Age: Primary school aged children
Dates and times:
Tuesday 13 April
10.30 am – 1.00 pm
Book now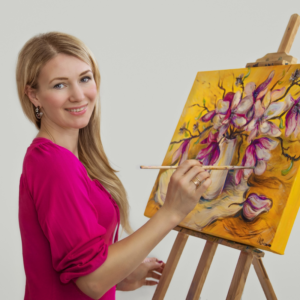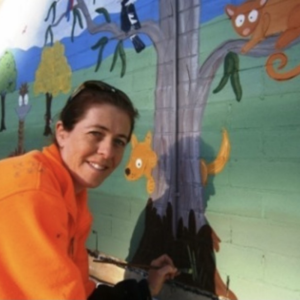 Elaine Butler
Elaine is an Irish Australian visual artist and mobile arts educator located in both the Blacktown and Hills area of western Sydney and in Wallerawang, Regional NSW Australia with over 26 years experience. Through her company Fun Time Art, she offers a variety of art educational programs designed to be a unique, inspiring, and creative learning experience for everyone young or old. In addition, to teaching art, she is also an established visual artist, mural artist, art therapist, children author and book illustrator. 
Find Elaine Butler on Instagram @funtimeart
Creative Roar – Mixed media wall sculpture
Cost: $15 per child
Age: 5 – 8 years old
Dates and times:
Thursday 15 April
10.30 am – 1.00 pm
Book now
Teresa Small
Born in 1993 and based in Sydney, New South Wales, Teresa Small paints contemporary realism, fluid based abstracts and fragmented surrealism. Reluctant to be constrained by any singular set style or subject, Teresa's paintings range from landscapes, portraiture to abstractions of natural forms. In every instance, she strives to capture a sense of balance, harmony and aesthetic charm in her work. 
 
With 13 years of study and painting experience and a background in secondary education,  Teresa is passionate about teaching the joy of creative expression through painting. Breaking away from the school environment, Teresa focuses on sharing her technical knowledge and playful spirit in weekend workshops, private tuition and technical demonstrations for adults. Teresa is the resident Artist for Chroma Australia and is represented by Gallery 11:11.
Find Teresa Small on Instagram @teresasmallart
Our Oceans – Acrylic pouring with Teresa Small
Cost: $20 per child
Age: 7 – 16 years old
Dates and times:
Friday 16 April
10.30 am – 1.00 pm
Book now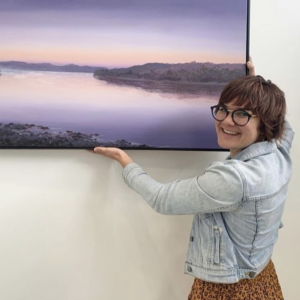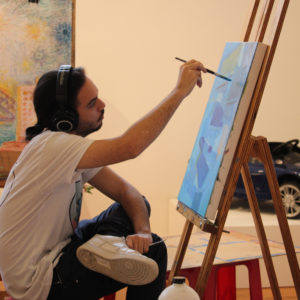 Nico Bauer
Based in western Sydney, Nico is an emerging mixed media artist and painter, primarily focused on painting abstract works in which he intuitively develops compositions.  Nico is a recent Bachelor of Arts graduate from the National Art School where he majored in painting and is a valued member of the Blacktown Arts community.   
Nico enjoys the prospect of not having a clear cut conclusion to his artwork before beginning the painting process, finding a visual harmony and sense of balance between the varying formal qualities in his works.  
Nico will be supporting the artist facilitators during the workshops.
Find Nico Bauer on Instagram @niicomakes