So there's a lot of power and learning in having conversations about ideas around Culture – the conversations start to deepen their own understandings around loss of culture, loss of language. I was hoping to take them on a journey for engaging with different forms of their Culture – including sexuality, queerness. So the conversations aren't just about First Nations history – they are about them being reassured about their own sense of identity, who they are today. " – Dennis Golding, during an interview with Martin Thiele
Dennis Golding is no stranger to the residents of Blacktown. He recently won the Aboriginal Artist Prize in the Blacktown City Art Prize in 2020 and was also the artist-in-residence for Solid Ground which is a program established in partnership with Carriageworks to provide education, training and employment pathways into the arts and cultural industries for young Indigenous people in Blacktown, Redfern, and Waterloo. Blacktown Arts champions Solid Ground and together with Carriageworks we hope to nurture a strong network to create meaningful change in students' lives – now and for the future.
Last year Golding led some creative workshops at Alexandria Park Community School where 170 Indigenous students were invited to participate. Each student produced a symbol on their own superhero cape informed by their memory, experience and identity. The workshop encouraged the students to think about their culture in relation to contemporary experiences which also led them to feel a strong sense of empowerment within their identity and culture. The Principal of Alexandria Park Community School, Diane Fetherston says:
"The greatest thing about it is the conversation they had with Dennis. He gave them this deep connection straight away. Dennis was born here, grew up here, he knew their parents."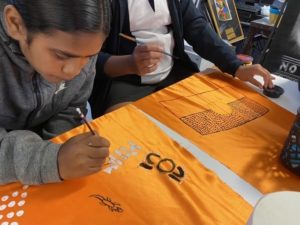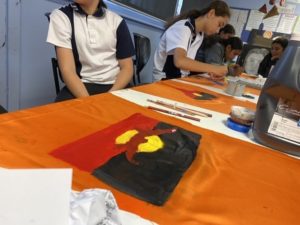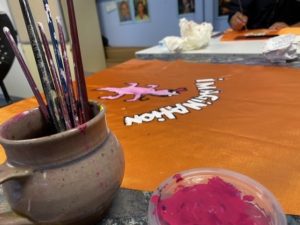 We have invited emerging First Nations artist, Kyra Kum-Sing, to curate the exhibition with Dennis. Kyra is also working with the Blacktown Arts team on a range of exciting new projects.
We are excited to present Dennis Golding's exhibition POWER where he exhibits 100 superhero capes made by the students at Alexandria Park Community School. Come and experience the visual representations of connections to Country, memory, heritage and lived experience from 6 February – 13 March 2021 at The Leo Kelly Blacktown Arts Centre. Some of Dennis' artworks will also be on show at Carriageworks in Redfern.
POWER | Dennis Golding
The Leo Kelly Blacktown Arts Centre
6 February – 13 March 2021
Free admission
Click here to register your visit
Photo credit
Emily Johnson