As part of HIDDEN Rookwood Sculptures 2021, Rookwood General Cemetery is offering the non-acquisitive Nerine Martini Memorial Award of $1,000 for a work that engages with a current social issue and/or involves working with a community group. This award commemorates Nerine Martini's vibrant life and art practice, specifically her socially engaged creative work with community and her participation in HIDDEN Rookwood Sculptures.
Nerine Martini (1969-2019) was a Sydney-based visual artist who extensively engaged with the Blacktown community to create public art such as Cultivations, the laser cut steel work of plants which is displayed in the banquet hall of Glenwood Community Hub in 2015 as well as the creative workshops she conducted at the Leo Kelly Blacktown Arts Centre for the conceptual development of the 2018 installation of Survival Strategies. Nerine often worked cross-culturally, creating artworks that responded to stories of migration, belonging, displacement, cultural identity and home. Interweaving personal and universal threads, her work poetically expressed concerns for humanity and our shared social environment. Leaving behind a legacy of public artworks, sculptures and community engaged projects, Nerine is warmly remembered as an artist with a generous creative spirit who shared visual storytelling processes that touched many lives.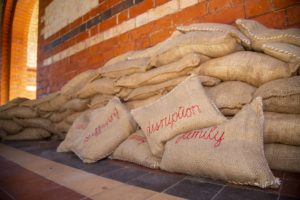 Nerine Martini, Survival Strategies, HIDDEN 2019, hessian, sand, mulch and thread.
The Nerine Martini Award is open to artists entering HIDDEN Sculptures and HIDDEN Students (the student section includes community groups). There's a section towards the end of the entry forms for artists who want to be considered for the Nerine Martini Memorial Award. A short statement explaining how the art work is socially engaging must be included in the application form to be considered.
For more information about the award, click here.
For more information about Nerine Martini, click here.