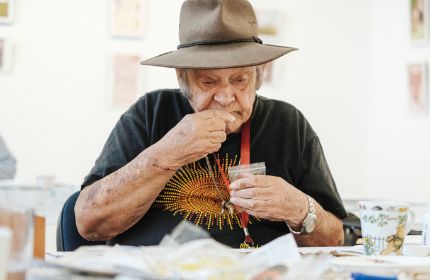 Elders In Residence
The Leo Kelly Blacktown Arts Centre
Fridays 29 April – 1 July 2022, 10.30 am – 12.30 pm
Free admission
Meet local First Nations Elders and have a yarn.
Friends, family and community are all welcome to come by for a cup of tea and hear the personal stories of local Elders and absorb knowledge and stories of culture and Country. Learn dreaming stories and hear first-hand of the more recent history of the area now called Blacktown and greater western Sydney.
Blacktown Arts wishes to advise that sometimes our Elders have other obligations and the Elders in Residence on any given day may change. We apologise for any inconvenience and you are welcome to ring to check who is in on Friday mornings.
There are conditions of entry, which are listed below and on signage at the entrance to our venue. Visitors must check in and show evidence of full vaccination status and face masks are mandatory to be worn in the venue, unless exempted.
Proudly funded by the NSW Government in association Blacktown City Council and Blacktown Arts.