Kids' Art Club – All about colour
Nurture your primary school-age kids' artistic instincts at these Thursday afternoon workshops.
Local artists Mary and Saqlain are diving into the world of colours and how they can help you to express yourself in art works, from wintery blues and greens to the bright neons of pop art posters.
Kids will learn everything from drawing fundamentals to working with ink and watercolour paints and other creative materials, with a focus on learning new artistic techniques while having tons of fun.
Cost: $10
Facilitators: Saqlain Binte Saleh and Mary Nguyen
Age: Primary school children
Dates and times:
Thursday afternoons, 22 April – 24 June
4.00 – 5.30 pm
Schedule:
April 22 – Mary
As the temperature drops join Mary Nguyen in a cool colour experience learning how to use colour to express yourself and create magical paintings. What do you think of when you think of the cold: chilly oceans, cool forests, or icy worlds? Participants will take home refreshing jewel like paintings in blues and greens.
April 29 – Saqlain
Dive into the oranges, reds and purples of Autumn with Saqlain Binte Saleh. Think pumpkins, Autumn leaves, and campfires. Make leaf garlands and crowns, mobiles and ornaments using mixed media.
May 6 – Mary
Mary Nguyen is going to take you to warmer lands and show you how to make an artwork look hot! Think deserts, chilis, camels and the sun and learn how to create sizzling work using pastels on coloured paper and some clay figures to go with your creations.
May 13 – Saqlain
Saqlain Binte Saleh is going to show you how to draw and paint from nature using a springtime palette. You will have plants and flowers in the studio to inspire you to make bright and light watercolour and ink paintings. Maybe you will add some critters too!
May 20 – Mary
How do you mix skin colours? Mary Nguyen will show you how to paint faces and people in this fun workshop. Who will you paint?
May 27 – Saqlain
This week in the studio a mystery still life will be set up and young artists will discover the world of shading in black and white using charcoal, graphite, and pencils to learn drawing skills with a focus on tone. Then create another masterpiece using white on black paper!
June 3 – Mary
Mary Nguyen will take you into the crazy bright world of pop art using neon colours to create vibrant big posters to take home.
June 10 – Saqlain
Colour can help you express how you feel. What does happy or sad, or worried or mad, look like? Learn how to create colour moods using collage and mixed media with Saqlain Binte Saleh.
June 17 – Mary
Did you know that colour and music go together? Mary Nguyen will show you how to use music as inspiration and colour in this energetic, messy and noisy fun workshop.
June 24 – Saqlain
You can make a magical jewel like window using coloured paper just like stained glass with Saqlain Binte Saleh and then take it home to put in your window to make rainbows – just add sunlight.

Monthly family art workshop
You asked for family workshops, and here they are! Create art and have fun in these monthly workshops for everyone in the family.
Bring the kids to these family-friendly, interactive art workshops.
These workshops will focus on drawing and printing with local artist Sima Alikhani.
Sima Alikhani will guide kids and adults alike through creative workshops in mono-printing, acrylic painting and collage.
Cost: $10 per family of two (adult must accompany child)
Facilitators: Sima Alikhani
Age: 3 – 16 yrs
Dates and times:
Saturday mornings, 24 April, 29 May and 26 June
10.30 am – 1.00 pm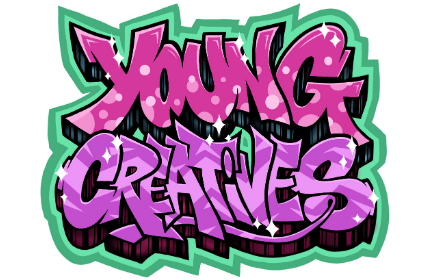 Young Creatives
Creatives aged 12 to 25 take over the studio every Saturday afternoon to develop skills in anime drawing and cross-platform artmaking, including working with textiles, sketching, collage and sculpture.
Every Saturday, join in alternating sessions with artists Pinky – who'll teach you anime and manga drawing – and Annie Shin, who'll walk you through the practices of drawing, sculpting and painting.
Bring along your artworks in progress, your inspirational materials or mood boards, or start on something completely fresh, as you get to meet, learn from and collaborate with other young artists.
Cost: $10 per session
Facilitators: Pinky and Annie Shin
Age: 12 to 25 years
Dates and times:
Saturday afternoons, 24 April – 26 June
2.00 to 4.30 pm
Schedule:
24 April – Pinky
Drawing faces I: Introduction
1 May – Annie Shin
Upcycle
Target fast fashion by upcycling our existing clothing and other fabric materials at home. Bring plain clothing of any choice, a canvas tote bag, or canvas shoes to upcycle.
8 May – Pinky
Drawing faces II: Expressions
15 May – Annie
Upcycle
Target fast fashion by upcycling our existing clothing and other fabric materials at home.
22 May – Pinky
Body design I: Shapes
29 May – Annie
Planter and plant
Basic sculpting skill building session.
5 June – Pinky
Body design II: Poses
12 June – Annie
Collaborate: Drawing tag
19 June – Pinky
Hangout
26 June – Annie
Collaborate: Still life in abstract

Clay jewellery workshop
Learn the craft of clay modelling, from texturing to applying colours, and take home your own beaded necklace.
Facilitator Marietta teaches the simple techniques of working with clay, from brainstorming the design of the necklace to crafting and texturing clay into beads, adding colour with paint or texta pens, stringing the piece together into a necklace and adding extra colourful accessories.
This creative workshop teaches design and practical handicraft techniques, with each participant leaving with their own unique wearable art piece.
Cost: $20
Facilitator: Marietta Zafirakos
Age: 8+
Dates and times:
Saturday 8 May
10.30 am – 1.00 pm
This workshop has been cancelled.
Please contact us via email artscentre@blacktown.nsw.gov.au or phone 98396558 for a refund or credit.

Henna workshop
Learn the ancient skill of Henna body art with professional artist Saranya Jayaram.
With 15 years experience as a Henna artist, Saranya will help you to draft and create intricate, meaningful Henna designs, and then draw those designs onto your skin as a temporary Henna "tattoo".
Learn the meaning of Henna body art designs, how the dye is created and how it's applied to the skin, in this fun and engaging workshop.
Cost: $25
Facilitator: Saranya Jayaram
Age: 10+
Dates and times:
Saturday 5 June
10.30 am to 1.00 pm

Acrylic pouring with Teresa Small
Explore acrylic pouring and the fluid styles achievable with a thicker slower moving consistency.
In this workshop you will learn the ways to create exceptional fluid paintings using household items you may find in your garage, regular acrylic paints and Floetrol (found in your local hardware store). This workshop explores the fluid styles achievable with a thicker slower moving consistency.
Starting the workshop you will be introduced to the unique materials and products used throughout the session. A thorough explanation of fluid consistency and behaviour of acrylic paint will be conducted by an experienced Artist followed by demonstrations of paint mixing with basic pouring styles (Dutch, Ribbon, Open ). A complimentary booklet will be handed out with step by step instructions to create the perfect consistency for your fluid artwork.
Students will paint three canvases during the workshop to collect when dry. Paintings have a drying time of 5 days.
All materials are included in the price of the workshop, these include:
– Range of acrylic paint colours including metallic (over 20+ colours to choose from)
– Floetrol
– Silicone
– Oil
– Glitter
– Brushes
– Palettes
– 3 x Canvas
– Protective gear
Cost: $40 per person
Facilitator: Teresa Small
Age: 12+
Dates and times:
Saturday 12 June
10.30 am – 1.00 pm
SOLD OUT