Exhibition
The Leo Kelly Blacktown Arts Centre
21 April – 29 May 2021 
Free admission
Heech – Beyond Nothingness is an exhibition by Castle Hill-based artist, Reza Taghipour, featuring a series of new paintings on canvas and calligraphy painting directly on the gallery wall. Reza's practice is a new form of Iranian calligraphy painting reflecting the beauty of nature with human aesthetics. In his new works, Reza combines portrait paintings with calligraphy. The exhibition is a wonderful opportunity to see a little-known yet significant emerging practice in Australia.
About the artist
Reza Taghipour is a visual artist, calligrapher and graphic designer. He has a master's degree of visual communication from Tehran Azad University, Iran. His interest in calligraphy began as a teenager and developed through study under prominent calligraphers in Iran. He has exhibited in Iran, Turkey and Australia. His works have been inspired by abstract expressionist paintings, the colours of the Tabriz style in Iranian miniature and by the world of nature. Reza created a new formalism of Iranian calligraphy which reflects the beauty of nature combined with human aesthetic taste. In his new works, Reza has combined portrait paintings with calligraphy. His works incorporate both aesthetic qualities and conceptual elements.
You can learn more about Reza Taghipour here.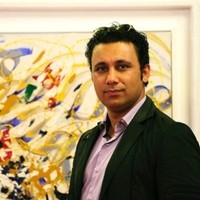 Proudly funded by the NSW Government in association with Blacktown City Council and Blacktown Arts.