Image: Too Strong digital artwork by Emily Johnson as part of the Digital Dreaming series.
Magnify
Expand Your Vision
1 to 3 June 2023
Various locations in Blacktown 
Program now live!
Check out the full program of events below.
Tickets are limited, get in quick.
Expand your vision and experience the creative hum of our City this Autumn with the return of Magnify.
A multi-day, multi-arts experience showcasing the City's key creative spaces and works in a range of development stages by Blacktown's most exciting artists across film, dance, performance and visual arts.
Feed your curiosity, unlock your creativity, and be transported across Blacktown City in a celebration of art, food and connection.
Featuring artists Emily Johnson, Mark Mariano, Rizcel Gagawanan, Shannon Smith, Vishnu Arunasalam and Agal Dance Company and Vonne Patiag with Claudia Chidiac.
About Magnify
In 2019, a cohort of emerging artists from western Sydney were selected to develop new ideas through conversations and research as part of Magnify.
With the aim of supporting new and diverse voices and multi-artform practices that engage audiences in new ways, the development explored connection to place and our City's multifaceted identity.
Now, the Magnify artists are ready to show their work to audiences.
Magnify Schedule
Click on the tabs to unlock events.

Image: Mark Mariano and Rizcel Gagawanan by Liza Moscatelli, Mosca Media Australia
Party with us!
Calling all artists and creatives for an evening of networking and celebration.
Be part of the conversation and hear directly from the artists in an exclusive panel discussion, enjoy some delicious locally made food, sing your lungs out at karaoke and hit up the dance floor as we open Magnify with a bang.
Featuring artists Emily Johnson, Mark Mariano, Rizcel Gagawanan, Shannon Smith, and Vishnu Arunasalam.
Curated by Magnify development creative producer Claudia Chidiac.
Thursday, 1 June 2023
6 pm to 9 pm
The Leo Kelly Blacktown Arts Centre 

Image: Uncle Wes by Raf Flores, Hyperreel Media
Magnify Welcome
Welcome and Smoking Ceremony with Fringe Dwellers' 1788 on Loop
Join local Elders Uncle Greg Simms and Uncle Wes Marne for a Welcome and Smoking Ceremony to begin Magnify: Expand Your Vision weekend.
Then, experience a live hip hop performance by Fringe Dwellers Shannon 'Monks' Smith and Jacob 'Izzy' Ballard, featuring songs from the newly-commissioned 1788 on Loop album, created in collaboration with Uncle Wes and students from Chifley College.
The live performance will be accompanied by Shannon's original digital artworks.
Free
Friday, 2 June 2023
11.30 am to 1.30 pm
The Leo Kelly Blacktown Arts Centre Carpark

Image: No Pride In Genocide digital artwork by Emily Johnson
Magnify Public Art Tours
Presented by MC Trey, with a brand-new work by Emily Johnson
Take a guided tour with Blacktown's very own MC Trey and explore the City's public art collection.
Featuring some of Australia's most prominent artists and a brand-new commission created specifically for Magnify by Emily Johnson as part of her ongoing series, Digital Dreaming.
Digital Dreaming explores positive imaging of women, feminism and First Nations identity through digital illustration. Be the first to see Emily's latest artwork, Matriarch, gracing the walls of one of Blacktown's busiest corridors, and grab your very own Digital Dreaming tote bag featuring more of Emily's custom designs.
Can't make the tour but still want the tote? Bags will be available for sale at The Leo Kelly Blacktown Arts Centre from Friday 2 June. Limited quantities available.
Free
Friday, 2 June 2023
2 pm to 3 pm
3 pm to 4 pm
Saturday, 3 June 2023
3 pm to 4 pm
The Leo Kelly Blacktown Arts Centre 
Drive on in and be moved by Blacktown Shorts Film Festival at Skyline Drive In Cinema. Experience the world premiere of 5 newly-commissioned short films from local filmmakers, all from the comfort of your own car.
Curated by local filmmaker Vonne Patiag, each film is an insightful personal story, peering into hidden cultures within the Blacktown sprawl.
Featuring films by Emie Roy Ian Esky and Reg Azwar, Sangeetha Gowda & Marshall-Weishuai Yuan (NOAH Films), Augusto Garcia with Sebastian Chan and Daisy Montalvo, and Taofia Pelesasa.
See you at the movies!
Please note a selection of films are rated M, attendees under the age of 15 must be accompanied by a parent or guardian.
Blacktown Shorts Film Festival Full Program
Ticket price per car (up to 6 people)
Friday, 2 June 2023
7 pm to 9 pm
Skyline Drive In Blacktown
Cricketers Arms Rd, Blacktown

 Image: Supplied by Agal Dance Company 
Home in Six Yards with Agal Dance Company
Celebrate the closing of Magnify with Agal Dance Company.
Home in Six Yards is a visual exploration of the saree in western Sydney through dance, film and installation. Using the saree and its threads of stories, Agal Dance explores the deeper meaning of this important garment that defines their Tamil community.
Bring the family along and be immersed in film, performance and south Asian sweets, and enjoy a Saturday afternoon in Blacktown, Magnify style.
Featuring Chidambaram R.Suresh, Shobana Suresh, and Vishni Ravindran, led by Vishnu Arunasalam. With mentorship by Sue Healy.
Free
Saturday, 3 June 2023
4 pm to 6 pm
The Leo Kelly Blacktown Arts Centre

Image: Mark Mariano and Rizcel Gagawanan by Liza Moscatelli, Mosca Media Australia
Hanap with Mark Mariano and Rizcel Gagawanan
Catch an intimate sneak peek of Hanap at Fiesta Avenue, a popular Filo eatery on Main Street.
Enjoy an intimate performance by the writers themselves, and share your thoughts over a delicious meal.
Hanap (to search, seek or find) has been co-created by Filipino writers Rizcel Gagawanan and Mark Mariano. Following siblings Angel and Ariel as they search for their missing mother, Agnes, the two must tap into the hyper-connected Blacktown 'Tita' network to find her. But nothing prepares them for the lies and secrets they uncover along the way…
Get ready for a typical Pinoy gathering: chismis and storytelling over some local food. There will be laughter, tears, and plenty of ulam.
This is a Pinas party you don't want to miss.
Featuring Mark Mariano as Angel, Nova Raboy as Tita Mini / Agnes, Rizcel Gagawanan as Ariel, and Miranda Aguilar as narrator and scene director.
Tickets are limited, get in quick.
Ticket price includes a Filipino set lunch with dessert 
Saturday, 3 June 2023
Noon to 1.15 pm
2.00 pm to 3.15 pm
Fiesta Avenue, 14 Main St, Blacktown

Image: The Village by the Kids by Hamish Ta-mé
The Village by The Kids with Claudia Chidiac
Participate in a creative discussion with artists from the upcoming The Village by The Kids project, created by Magnify development creative producer Claudia Chidiac and a suite of creatives alongside the Lalor Park community.
The Village by The Kids is an audio adventure co designed and curated with children from Lalor Park Public Primary School in collaboration with Lalor Park Public Library.
Featuring artists Claudia Chidiac, Danielle RG and Nitin Vengurlekar.
Free
Saturday, 3 June 2023
1 pm to 2 pm
Max Webber Library
Flushcombe Rd & Alpha St, Blacktown

Agal Dance Company is a cutting-edge dance group, exploring the style of Bharathanatyam (South Indian Classical Dance) through contemporary and modern world techniques. Agal Dance are the only company in Australia using a South Asian vocabulary to critically think about the world and the issues affecting the Australian South Asian diaspora.
Agal has presented for MCA ARTBAR, Radha's House Party, curator Shahmen. Vivid 2019, Critical Path (SPACE Program 2020) and Force Majeure (INCITE, 2020).
Image: Agal Dance by Gerrie Mifsud
Claudia Chidiac is a cultural arts worker and creative producer. For twenty years, she has worked with diverse communities creating intimate and large-scale experiences. From 2010 to 2014 she was the Creative Producer of Performance and Music and Theatre Producer/Curator at Casula Powerhouse Arts Centre (CPAC).
She created and produced the award-winning Way Out West Festival for Children (2011 to 2013 and 2017 to 2020). From 2005 to 2010 she was the Artistic Director and Executive Officer of PYT Fairfield, where she was responsible for directing, and producing the company's artistic program and developing training.
Image: Claudia Chidiac, supplied by the artist
Emily Johnson is a 29 year-old Barkindji, Latjilatji, Wakka Wakka and Biri Gubba woman originally from Broken Hill, living and working in Sydney on Gadigal Country. Emily was previously the program coordinator for Solid Ground – an initiative that provides Aboriginal and Torres Strait Islander education and employment opportunities in the arts through Carriageworks and Blacktown Arts.
Emily continues her own visual arts practice, with a focus on equal representation and agency for Aboriginal and Torres Strait Islander people, intersectional feminism, and body positivity.
Image: Emily Johnson, supplied by the artist
Mark Mariano is a Filipino writer, performer and content producer from Doonside, on Darug land. Proudly queer, Mark's work spans across SBS, BuzzFeed, Fruit Box Theatre, Kweens Of Comedy, Queerstories, United Nations NSW, ABC, and NetflixAU.
He is also part of Sweatshop Western Sydney Literacy Movement, through which he contributed to their 2021 anthology, Racism, and their 2023 queer ACON anthology, Stories Out West. Mark was an artist at the Nation Young Writers Festival (2020, 2022), panelled at the Sydney Writers Festival (2021, 2022), and at the EnQueer Writers Festival (2021, 2022).
He was a highly commended shortlistee for the 2021 Deakin University Non-Fiction Prize, and appeared in FA(C)TS, a body positive docu-film produced by Demon Derriere and Dr. Naomi Koh Belic in 2022. For Sydney WorldPride 2023, Mark appeared as a lead in ACON's With Love campaign, headlined for Big Thick Energy, and was featured in SBS' The Swiping Game.
Image: Mark Mariano, supplied by the artist
Rizcel Gagawanan is a Filipina-Australian actor, writer and producer originally from Turrbal but now lives and works on Gadigal Land. She has performed on stage and screen and has worked in TV writers' rooms.
Rizcel currently works as a production manager/producer for BuzzFeed Australia. Rizcel's video series for Filipino Week garnered over 2 million views across all BuzzFeed platforms. Rizcel is the co-founder and co-producer of Kallective, a Sydney-based collective of Asian Australian creatives from multiple disciplines.
Their new theatre work  Salt Baby has been supported by Australia Council for the Arts, Create NSW, PACT and Casula Powerhouse Arts Centre. Rizcel was part of the 2022 AFTRS NSW Talent Camp to help develop her web series 'Double Debut'. Rizcel is also a proud member of SWEATSHOP, a literacy movement in Western Sydney. Rizcel's short story, Act Like a Filipino, is featured in Racism: Stories on Fear, Hate & Bigotry (Sweatshop, 2021).
Image: Rizcel Gagawanan, supplied by the artist
Shannon Smith is a Gomeroi man, an Indigenous hip-hop artist and digital illustrator who has been active in the greater Sydney community for over ten years. As a performer, he has been involved in events and festivals including ChangeFest, SpeakUP Urban Poetry, and Say No to Ice Day, Mount Druitt. As a workshop director, his clients include Westfield, The Song Room, City of Parramatta, Sydney Olympic Park Authority, Noffs Foundation, and Blacktown City Council. He has performanced at various venues in the Sydney music scene, including Venue 505, Foundry 616 and Qudos Bank Arena.
Image: Shannon Smith, supplied by the artist
Vishnu Arunasalam is a Sri Lankan (Eelam) -born Australian-raised emerging art-maker exploring the traditional dance medium of Bharatanatyam with a developing contemporary multidisciplinary practice. His work explores his South Asian diaspora identity within the contemporary Australian landscape.
He is the artistic director of Agal Dance Company, established in August 2018 and is primarily based in Sydney, exploring the style of Bharatanatyam (South Indian Classical Dance). Agal is a dance company that strives to champion the Bharatnatyam form in Australia through presenting ensemble work that innovates within the paradigms of the form. Vishnu will be collaborating with his peers at Agal Dance Company to envision ideas generated from the first Magnify development experimenting with dance and film.
Image: Vishnu Arunasalam, supplied by the artist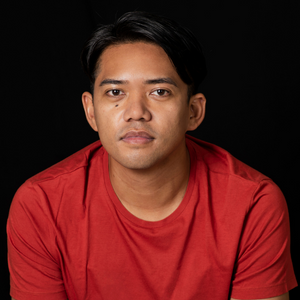 Vonne Patiag is a multiple AACTA, AWGIE, Logie and SPA Award-nominated writer, director, producer and Actor based in western Sydney. His recent credits include writing and producing the 4-part series The Unusual Suspects for SBS, the feature anthology film Here Out West, released theatrically in early 2022, and writing on Significant Others, a 6-part drama for ABC.
Most recently, his short film Too Many Ethnics had its World Premiere at Flickerfest 2023 and his one-man show The Life Cycle of Blanco made its mainstage debut with a Creative First Look season in March 2023 with Riverside's National Theatre of Parramatta.
Image: Vonne Patiag, supplied by the artist
This project is proudly funded by the Australian Government through the Australia Council, its arts funding and advisory body, with support from the NSW Government through Create NSW and Blacktown City Council.