Blacktown Arts is delighted to announce the unveiling of a major new acquisition to the Blacktown City Art Collection, (Thinking About) Country, by Seven Hills artist, Alexandra Byrne, on permanent display at Dennis Johnson Library in Stanhope Gardens.
This large-scale work  is made up of twenty individual works on paper and explores the local area as Darug Country. Alexandra Byrne worked in consultation with Darug artist, Venessa Possum, to create a series of artworks for the exhibition, Terra inFirma: Sovereignty and Memory at The Leo Kelly Blacktown Arts Centre in 2020.
This project provided me with opportunities to reflect publicly on 250 years of colonisation and settler history in this country, as a witness, participant and non-First Nations Australian, born here and growing up in western Sydney. Taking a personal approach, I've drawn from my memories, their inspirations, aspirations, perceptions and awareness. It follows my understanding and way of being in the world, developing from childhood through adulthood, with increasing knowledge of the colonial impact on indigenous custodians of this country, and thinking locally, about Dharug land and its people."
"These drawings are about place and the physical and psychological spaces I inhabit. These places span geography, cultures and time. They evoke stories that are conflicted, hurtful and damaging, alongside others that are also inspired, hopeful and connected. What does this mean for us Australians now? …I acknowledge that sovereignty was never ceded here, and this is only the beginning of my learning with you…"
– Alexandra Byrne
It was a joy to yarn with Alex Byrne and support her process of manifesting a heartfelt, lifetime connection to Dharug ngurra badu country and rivers. The mentoring role established by Blacktown Arts for Terra inFirma paid significant homage to the values of cross-cultural communications as a positive step in Australian visual arts."
– Venessa Possum
The artwork can be seen at the Dennis Johnson Library. It is one of many artworks to be on display across Blacktown libraries in the coming months.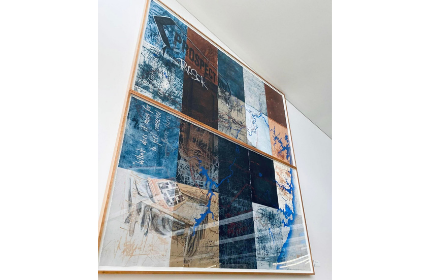 Image: Alex Byrne, Artist and Paul Howard, Curator and Collection Manager