5 September – 7 November 2020
The Leo Kelly Blacktown Arts Centre
In the year marking the 250th anniversary of James Cook's arrival in Australia, and with the Black Lives Matter movement bringing focus to the on-going impacts of colonisation around the world, Terra inFirma could not be more timely.
First Nations and culturally diverse artists share their stories of history, heritage and identity with a focus on the experiences of communities represented in Blacktown. In Terra inFirma: Sovereignty and Memory, artists reflect upon the complexity and significance of Country, not limited to the physical grounds we stand on, but the histories and experiences absorbed by that land.
An effigy of Cooks' Cottage in Melbourne is destroyed; maps of Blacktown are decolonised; and the histories of Australia and South East Asia are linked through the narrative of dispossession among work by artists Alex Byrne, Gary Carsley, Dean Cross, Brian Fuata, Jasmine Guffond, Jumaadi, Leanne Tobin, Julie Vulcan and Judy Watson.
Terra inFirma: Sovereignty and Memory follows the highly impactful Terra inFirma exhibition, which took place from 5 March – 10 July 2020. More information about the first exhibition, including a virtual tour, is available here.
Watch the online launch of Terra inFirma: Sovereignty and Memory here. 
Read the exhibition curatorial statement here.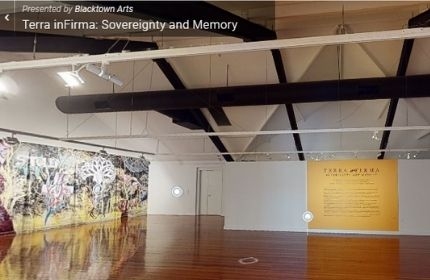 Discover our exhibition Terra inFirma: Sovereignty and Memory in this immersive self-guided 360 VR tour featuring images, videos and exclusive artist interviews.
Blacktown artist Alex Byrne reflects on 250 years of colonisation as a non-First Nations Australian through a series of drawings about physical and psychological place.
In a large-scale installation, Gary Carsley looks at how the histories of Australia and South East Asia are linked through the narrative of dispossession. Aboriginal and non-Aboriginal students at Chifley College Bidwill Campus thread their histories, memories and aspirations into the work, which will be activated in a ceremony with Darug artist Leanne Tobin on Thursday 10 September.
In FOLLY, Dean Cross looks at the inequalities in the politics of historical preservation and asks why one birthplace is more valuable than another. The work acknowledges the Djab Wurrung trees, and their mistreatment, as a point of critical difference to Cook's Cottage in Melbourne. On 10 August this year, the 800 year old birthing tree was denied the same level of heritage protection given to Cook's Cottage, a place where Cook himself never lived. On the same day as the Djab Wurrung trees were denied their protection, Sussan Ley, Federal Minister for the Environment, announced the heritage listing of the Parkes radio telescope. This is colonialism in action.
A Sheet as sail continues Brian Fuata's long standing practice of structured improvisation that exploits the image of the ghost. Fuata will be working in situ at The Leo Kelly Blacktown Arts Centre, haunting and/or being possessed by the practices and artworks of the other artists, absorbing and embodying fragments of their works to become part of the performance. Learn more about Brian's performance here.
Land in Blacktown was given to early colonisers in the form of land grants, while places were named after British rulers and aristocracy. Darug artists Leanne Tobin and Julie Bukari Webb work with Jasmine Guffond to decolonise maps of Blacktown, and to use Darug language to name and describe local waterways.
In a newly commissioned performance, Australian-Indonesian artist Jumaadi takes influence from ancient shadow theatre to tell stories of sea transportation throughout history. The shadows are brought to life by two puppet masters, accompanied by live music, full of satire and humour, but also depicting painful moments of loss and discovery. The performances take place on Saturday 31 October. Book now.
DARKpassage is an installation that considers the invisible layers of place vibrating across time. The abstract forms are inspired by smooth-bark gums glinting in the moonlight reminding us this was once a richly inhabited woodland co-inhabited and cared for.
Judy Watson's leaking shield references cultural memory in the land, and subtly exposes hidden histories of the Indigenous experience on the colonial frontier.
Image: Sight Cite Site 2020, 295 x 1050 x 20 cm
Image courtesy the artist.
Gary Carsley with Leanne Tobin and twelve Years 9, 11 and 12 students of Chifley College, Bidwill Campus, supported by their teachers.
Substrate Black and White photocopy on variously tinted 80 gsm A4 papers.  Overlay colour photocopy on 100 gsm office paper. 5 dressed pine planks wrapped with Black and White photocopy on variously tinted 80 gsm A4 papers and colour photocopy on 100 gsm office paper.
Gary Carsley is represented by Roslyn Oxley9 Sydney, Thatcher Projects New York, and Torch Amsterdam
This project has been assisted by the Australian Government through the Australia Council for the Arts, its arts funding and advisory body.