Ngarangalyung (Little Sister), 2020
Land in Blacktown was given to early colonisers in the form of land grants, and places were named after British rulers and aristocracy. Governor Arthur Phillip, for example, named the Cumberland Plains after the Duke of Cumberland in 1788. These titles claim land in the name of colonisers, and the practice of naming land after people rather than country, is instrumental in establishing a notion of territory as compatible with European systems of governance and control. The very lines on the map contribute to a language of conquest that reflects and perpetuates relations of power. In addressing the role of cartography in colonial forms of expansionism, and how it relates directly to the possession of land, what would be a process for decolonising the map?
Wiannamatta is the original Dharug name for South Creek, one of the major waterways that traverses through Blacktown. The name roughly translates as 'Mother Creek'. Wiannamatta and its tributaries once played a more significant role in Dharug cultural practice, as in Aboriginal life, water is sacred and much of a community's life was spent in and around water. Traditionally, hunting, fishing and ceremonies were conducted along the rivers and creeks. They were 'living spaces' for families.
Before colonisation, Wiannamatta was fast-flowing, wider and deeper, with many rock engravings etched into the sandstone ledges that once rimmed the riverbanks. Unfortunately, as Sydney and the greater regional areas were the first point of contact, much of Dharug's landmarks and features have been lost to destructive processes of urbanisation.
One of Wiannamatta's tributaries is Ropes Creek, named after First Fleet convict, Anthony Rope. According to the New South Wales Registers of Land Grants and Leases, Rope was granted land on 22 February 1792, at The Ponds, which is now Dundas. Starting with Ropes Creek, the idea of this project is to embark on a process of dual signage. Temporary or permanent signs will reaffirm the Aboriginal understanding and connection to Country through place names. The intention is to provide descriptions of place, respectful to Country and Dharug culture, that will inform us about Country and include the memories of Dharug community connected to that particular place, rather than just labelling or signposting a location.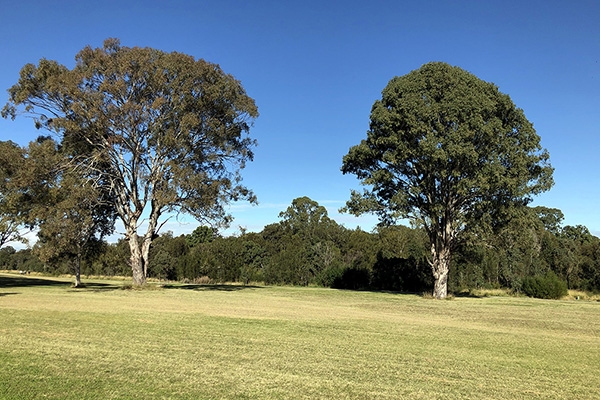 Image: Tregear Reserve in Blacktown, where Ropes Creek runs behind these majestic old native gum trees.
On this site, Jasmine Guffond will design new signage, in collaboration with Darug knowledge-holders, Julie Clarke-Jones and Leanne Tobin, which includes the Darug name for the creek: Ngarangalyung (Little Sister). The signage will include Darug cultural knowledge and social history of Country.
---
Text: Jasmine Guffond and Leanne Tobin with Julie Bukari Webb
Concept in progress: Jasmine Guffond
Cultural Consultants: Leanne Tobin and Julie Bukari Webb
---
Jasmine Guffond is a sound artist and composer working at the interface of social, political and technical infrastructures. Her practice spans live performance, recording and the capacity of sound installation to interrogate site. Through the sonification of data she addresses the potential for sound to engage with contemporary political questions. Recent projects employed digital technologies, sonification and the aesthetisation of data as a means of fostering discussion around contemporary surveillance technologies as well as producing experimental audio works. Interested in providing an audible presence for phenomena that usually lies beyond human perception, via the sonification of facial recognition algorithms, global networks or internet tracking cookies she questions what it means for our personal habits to be traceable, and for our identities, choices and personalities to be reduced to streams of data.
Jasmine has exhibited internationally including Akademie der Künste (DE), Deutsche Oper (DE) and the Museum of Contemporary Art (AU), performed live internationally at music and electronic art festivals, and recorded music for CD and 12inch vinyl releases with the Staubgold, Monika Enterprise and Sonic Pieces labels. She completed the Sound Studies, master in arts program at the Universität der Künste, Berlin Germany, 2015 and received the 'Working Grant for New Music und Sound Art' from the Berlin Senate in 2016. She is a current PhD candidate at UNSWAD, Sydney Australia conducting research into sound as a method of investigation into contemporary digital surveillance.