My mother was from Flinders Island. When I was about 11 or 12 mum ran away from Deadbird Mission with us to Tasmania, not once, but three times. Each time the Tasmanian police came looking for us. The fourth time we ran away, they let us stay in Tasmania. 

I'm a storyteller.

My grandfather was a storyteller, and his father and his father and his father.

For generations we have been storytellers.

How many generations, I don't know, but I am still telling the stories from my people.
– Uncle Wes Marne
Monday 29 November – Sunday 12 December 2021
After spending three weeks at The Leo Kelly Blacktown Arts Centre, Blacktown Arts are thrilled to offer an encore digital season of Through Old Eyes, a video work by Uncle Wes Marne.
Through Old Eyes is a video work in three parts. It was commissioned for the inaugural Hobart Current as part of the Liberty: From Here to Here exhibition in May 2021.
Liberty Curator Rosie Dennis first met Uncle Wes as part of Urban Theatre Projects Back Home 2006 and since that time, has gotten to know a little of his story. One part was his family's connection to Tasmania. Uncle Wes and Rosie decided to make a video work when the live performance in Hobart was not possible due to COVID-19.
Uncle Wes invites you to connect with this very special work. Suitable for all ages.
Uncle Wes is one of our Elders in Residence at Blacktown Arts. All are welcome to yarn every Friday morning with Uncle Wes, Uncle Greg Simms and Uncle Danny Eastwood during our Elders in Residence program.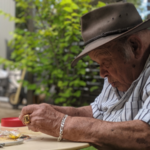 Uncle Wes Marne is Bigambul man and community elder who has lived in Mount Druitt for the past 45 years. He is a storyteller, poet and custodian of his grandfather's Creation and Dreamtime stories. Uncle Wes is a published author, and has toured his work, Fire Bucket at Sydney Festival (2016), Yirramboi First Nations Arts Festival in Melbourne (2017) and Way Out West Children's Festival at Casula Powerhouse Arts Centre (2017).
Uncle Wes comes from a long line of storytellers and has been working with children, primary and high schools, universities, gaols, social housing and justice to share his love of culture and stories throughout all the community.
Images provided by Rosie Dennis.
In early 2021, Through Old Eyes was presented as part of Liberty: From Here to Here, an exhibition by Creative Director of Hobart Current, Rosie Dennis.  
Proudly funded by the NSW Government in association with Blacktown City Council and Blacktown Arts.