The Leo Kelly Blacktown Arts Centre
Thursday 21 October – Wednesday 10 November 2021
Free admission
Skye Andrew, Nico Bauer, Michelle Findley, Liza Henry, Ginette Morato, Eman Nasr, Mary T Nguyen, Holly Oakley, Lesley Richman, Kirstan Sadlon, Kevser Ugurlu, Patrice Wills
Blacktown Arts' Open Studio program has been open for 18 months and continues to attract a dedicated group of local artists. It has become a vibrant hub that inspires creativity and supports the local art community.
Snapshot is a small sample of the diverse practices from the studio, featuring 40 artworks by 12 artists. The exhibition showcases the work of a group of local artists by providing a glimpse into their current practice.
Selected artworks from this exhibition will be for sale. Please see front of house staff, call (02) 9839 6558 or email artscentre@blacktown.nsw.gov.au for more information and pricing.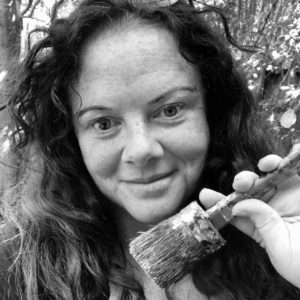 The Australian landscape, the beach and nature tracks have always been a source of expansion, exploration, joy, wonder and quietude for me.
This series depicts snippets in time, through an exploration of our natural environment with my family. Treading well-worn paths, and acknowledging the sometimes-harsh reality of the Australian landscape, these works stand testament to the large, looming and lush beauty of our surroundings, amid the stark contrast of bushfires and destruction.
Skye Andrew, After the fire, 2021, oil on canvas, 91 x 122 cm
Skye Andrew, Clontarf, 2021, oil on canvas, 91 x 122 cm
Skye Andrew, After the rain, 2021, oil on canvas, 51 x 61cm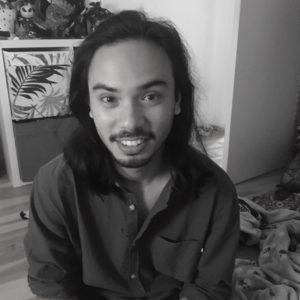 Painted in acrylic on canvas the body of work, 'Compositions', by emerging artist Nico Bauer is a formal study concerned primarily with formal relationships between various hues of colour and form. Made in an intuitive step by step manner, Nico engages in a game of visual call and response where the objective becomes to stop painting at a point during which the painting is specially resolved. Nico enjoys the prospect of not having a clear cut conclusion to his artwork before beginning the painting process, finding a visual harmony and sense of balance between the varying formal qualities in his works.
Nico Bauer, Composition 1, 2021, acrylic on canvas, 30 x 30 cm
Nico Bauer, Composition 2, 2021, acrylic on canvas, 30 x 30 cm
Nico Bauer, Composition 8, 2021, acrylic on canvas, 30 x 30 cm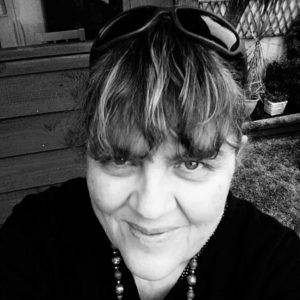 Young and old alike use metaphoric monsters to give weight to fears and deflect blame.
Giving substance to these monster constructs in the form of painted canvases,  I hold them up for non-confrontational examination. Rejecting the reasoning 'they are monsters, they must be bad' and asking 'what if?'
What if a sweet, kind, cold-footed creature steals single socks does to stop your feet from getting too cold; what if water goes everywhere in the bathroom only because the water creature is allergic to human skin; and what if the scary thing in the dark steals the light only because it is more scared of the dark than you.
Michelle Findley, Water Monster, 2021, acrylic on canvas, 71 x 51 cm
Michelle Findley, Sock Monster, 2021, acrylic on canvas, 51 x 76 cm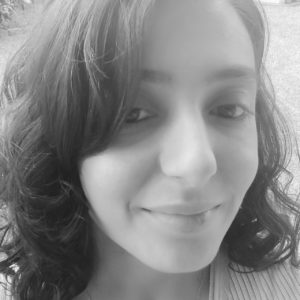 Throughout my journey in life I have faced many battles and have learnt to grow through my artwork. When I make art, I like to use symbolism to show my strength, weaknesses and mental and emotional pain.
I find art therapeutic and through my artwork I like to tell stories of hope, pain, struggle and of course, mental illness. Through colour, I hope everyone may be able to find hope and experience the rollercoaster of emotions we suffer through our lifetime.
I have grown so much through my art and continue to improve further through every artwork I create. As I continue to learn and be inspired, I hope that you are able to see the message of my artwork and that it can help you all with your own struggles in life.
Liza Henry, Look Up, 2021, coloured pencil on paper
Liza Henry, Growing Emotions, 2021, charcoal and gel pen on paper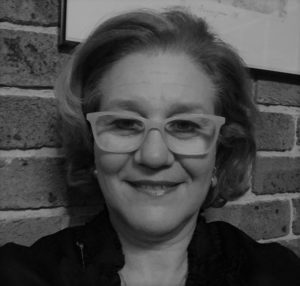 This body of work weaves together themes of memory, heritage and place and depicts them within a contemporary context.
Painted, sketched, stitched and collaged, the work explores and documents botanical species. It discusses the uniqueness, serenity and fragility of the Australian bush and makes specific reference to my own cultural heritage.
Embedded within the layers are fragments of memory that have been carefully woven together to depict their interconnectedness and interdependence. The work has been constructed, deconstructed and carefully pieced together. Collectively, it offers a snapshot of a highly personal and complex narrative.
Through this work, I acknowledge my own ancestors and pay my respects to the traditional custodians of the land upon which I reside today.
Ginette Morato, A Sense of Place (She-Oak detail), 2021, watercolour on paper, 61 x 87 cm
Ginette Morato, A Sense of Place (Sapling detail), 2021, watercolour, acrylic, pencil and graphite on paper, 50 x 65 cm
Ginette Morato, Shrouded by memories, 2021, watercolour, wax and textile on paper, 40 x 30 cm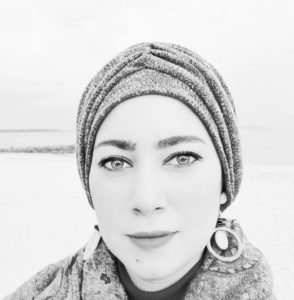 I connect with nature through my art. My paintings are an emotional connection to the natural landscapes that surround me. They are a magical reflection of what I feel while I am painting and not merely what I see.
I paint impressionistic landscapes mainly using acrylics, but I also enjoy experimenting by adding different materials and mediums to my artwork.
You will most likely notice my love for colours and textures.
My painting process is loose, quite spontaneous and heart-felt.
Every stroke of my brush is an imagination let loose, and every colour that I mix is an emotion I am setting free.
Eman Nasr, Landscape 1, 2021, mixed media, 30 x 40 cm, Magical Reflections Series
Eman Nasr, Landscape 2, 2021, mixed media, 50 x 50 cm, Magical Reflections Series
Eman Nasr, Landscape 3, 2021, mixed media, 20 x 20 cm, Magical Reflections Series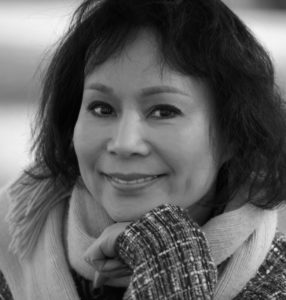 My practice is the result of collected personal memories and history from my homeland in Vietnam that have been enriched by a strong connection to the land and Australian culture.
In this body of work, I have been inspired by a journey to Western Australia's Kimberly region. The intense colour of the ancient landscape and the deeply felt respect for the Jawoyn people and their stories stayed with me long after returning home to my studio.  I have blurred this experience with my own personal story, fusing figurative and abstract elements in a melting pot of colour, marks, symbols, and energies to evoke once again the unforgettable and unique sense of place.
Mary Nguyen, Story of Broome, 2021, oil on canvas, 100 x 100 cm
Mary Nguyen, Golden land, 2021, oil on canvas, 95 x 95 cm
Mary Nguyen, Honey Pot, 2021, oil on canvas, 50 x 50 cm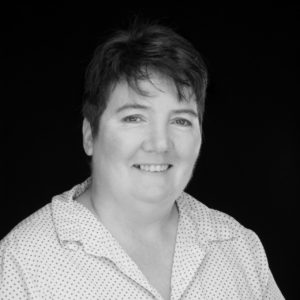 One of the magnificent capabilities of art is the ability it has to immediately tell a story and raise awareness of a topic that is usually hidden behind closed doors.
'Behind Closed Doors' depicts the emotional turmoil the victims of abuse endure. The feeling of walking on egg shells, being careful of every word you speak, every action you make, hoping you will not anger or upset the one you love.
Domestic violence is a huge problem in Australia and this series aims to open the lines of communication and discussion around this controversial topic. I am hoping my art touches all who have been affected by domestic violence, bringing a voice to the truth hidden behind closed doors.
Holly Oakley, Rollercoaster of Abuse, 2021, acrylic paint on board, 94 x 64 cm
Holly Oakley, Out of Sight, Out of Mind, 2021, acrylic on board, 49 x 66 cm
Holly Oakley, Depths of Despair, 2021, acrylic on board, 94 x 49 cm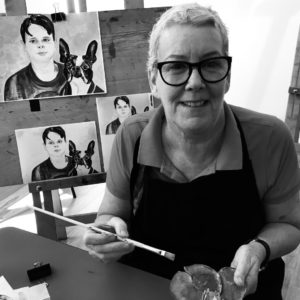 I am a mixed media artist, my work is intuitive, spontaneous with links to experiences, places visited, feelings and moods. Experimentation is feature of my artistic process as I seek new forms of expression.
These portraits were created using hand coloured paper and torn paintings to express both visual and emotional aspects of my recent health experience. The portraits were created during different stages of my treatment.
I found that creating the images was way of dealing with and coming to terms with often difficult situations.
The portraits may be viewed as interesting or quirky but for me there is an underlying memory of the feelings I felt at the time the images were created.
Lesley Richman, Are You Sure, 2021, hand coloured paper collage, 56 x 76 cm
Lesley Richman, Lotus Pond, 2021, hand coloured paper collage, 56 x 76 cm
Lesley Richman, Self portrait, 2021, hand coloured paper collage, 56 x 76 cm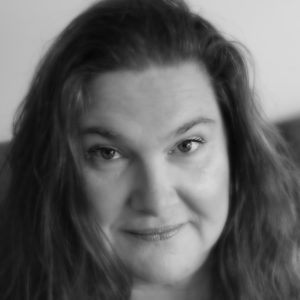 Hidden Worlds reveals the dreamlike magic that surrounds us in the natural world, but is obscured by darkness or infinitesimal size. It is a voyage of discovery, submerging our gaze under the water, into the darkness or through the microscopic world, to revel in the imperceptible beauty and strangeness in the familiar. Through the images we are shown that Shakespeare was right – "there are more things in heaven and earth … than are dreamt of". Magical abstractions reveal themselves through the process of light painting and long exposure photography shot in darkness. Through intermittent light pulses, the elements shift and reveal themselves long after the image has been taken.
Kirstan Sadlon is an art photographer, working from her studio in the inspiring natural environment of the Hawkesbury River area. She studied photography at UNSW College of Fine Arts, different processes of photography has held her artistic focus for three decades.
Kirstan Sadlon, Hidden Worlds no 1, 2021, photograph on archival fibre based cotton rag paper, Standard Edition of 10 + 2 APs, 100 x 100 cm, Hidden Worlds series
Kirstan Sadlon, Hidden Worlds no 3, 2021, photograph on archival fibre based cotton rag paper, Standard- Edition of 10 + 2 APs, 100x 100 cm, Hidden Worlds series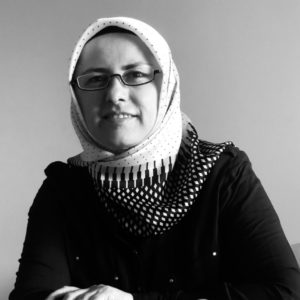 Reflecting on my experiences of living in big very different cities such as Istanbul, Turkey and Sydney, informs and inspires my practice.
I am interested in people's relationship and connection to cities and conveying a sense of place.
My work explores the dynamic of:  people build cities – cities mould people.
I use colour symbolically to build a dialogue and express the diverse, often surprising character of urban living, whether it be restful and comforting, or chaotic.
This series of watercolour paintings address the cyclic roles of constructing, building and protecting that city life generates in our minds and hearts.
Kevser Ugurlu, The City & The People 1, 2021, watercolour on paper, 29.7 x 42.0 cm
Kevser Ugurlu, The City & The People 2,  2021, watercolour on paper, 29.7 x 42.0 cm
Kevser Ugurlu, The City & The People 3, 2021, watercolour on paper, 29.7 x 42.0 cm