When will we see you in Blacktown?
Blacktown Arts is a recognised leader in the development of contemporary arts in Australia. We support artistic innovation and offers exciting, new experiences for audiences through an award-winning curated program of exhibitions, performances, workshops, residencies and events. Blacktown Arts is committed to exploring dynamic, culturally diverse work that reflects Blacktown, its history and its communities. We place Aboriginal and Torres Strait Islander artists and communities at the heart of our program to develop new work drawing on issues of local and global significance.
The Leo Kelly Blacktown Arts Centre is an innovative multi-arts hub located in the heart of Blacktown, a short walk from the railway station.
______________________________________________________________________________________
Terra inFirma
5 March | 10:00 am

-

10 July | 5:00 pm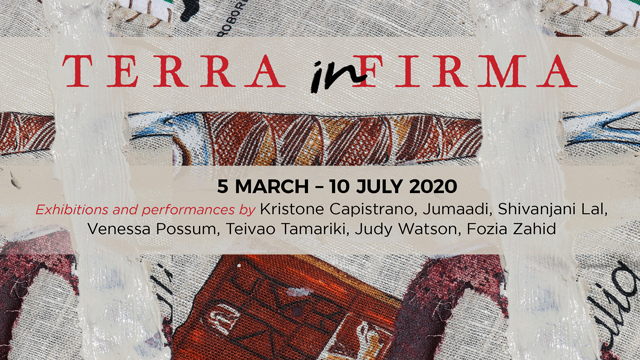 Terra inFirma is a major three-part program of curated exhibitions and performances featuring works by some of our country's most exciting artists.
2020 marks the 250th year since Cook's arrival in Australia and this program invites discussion and debate about the many stories of exploration and discovery through our shared cultural heritage.
Terra inFirma takes place in sites and venues across our local landscape including The Leo Kelly Blacktown Arts Centre, open spaces, laneways, schools and neighborhoods.
Blacktown Arts welcomes you to the opening night of this thought-provoking exchange featuring the works of Kristone Capastrano, Jumaadi, Shivanjani Lal, Venessa Possum, Teivao Tamariki, Judy Watson and Fozia Zahid.
The first part of the program will run from 5 March – 10 July 2020.
Related Events