Looking for something to do this summer after the craziness of the silly season? Make animals from clay, create your own superhero cape, draw with charcoal or experiment with mixed media in our Summer School Holiday workshop program. Places are very limited so book now!

Family Workshops
Bring the whole family for an all-ages day of creative fun and interactive artmaking, from painting and modelling to monoprinting.
Lead by local artist Sima Alikhani, these interactive workshops for the whole family engage your mind and hands with practical lessons in painting, making colourful models and monoprinting techniques.
All materials are provided so all you need to bring are your family, your hands and an open imagination to get creative and make some mixed media art!
Cost: $10 for a parent/carer and child ticket
Facilitator: Sima Alikhani
Age: All ages (recommended ages 3 to 12)
Dates and times:
Wednesday 13 and 20 January 2021
10.30 am to 1.00 pm and 2.00 pm to 4.30 pm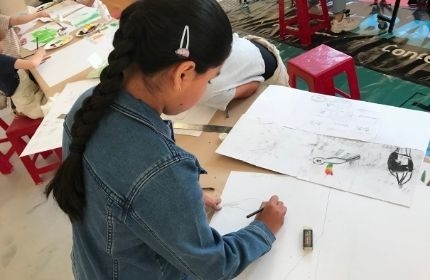 Mixed Media Fun
Learn how to use mixed media – such as drawing materials, paints, inks, collage and string – to create a range of imaginative artworks inspired by everyday objects.
In a series of workshops designed for aspiring artists of primary school age, local artist Saqlain Binte Saleh walks participants through the skills and style involved in creating imaginative, experimental artworks using mixed media.
Across two sessions, participants aged 5 to 10 learn how to create an art book combining their own artworks and pictures, and learn the intricacies of leaf-running technique, while participants aged 11 and 12 learn how to create artworks using charcoal and string.
Cost: $10 per child, $20 family ticket (up to three children)
Facilitator: Saqlain Binte Saleh
Age:
Morning session for ages 5 – 10
Afternoon session for ages 11 & 12
Dates and times:
Thursday 14 and 21 January 2021
Morning session (ages 5 – 10): 10.30 am to 1.00 pm
Afternoon session (ages 11 & 12): 2.00 pm to 4.30 pm

We Wear Capes
It's not just superheroes that wear capes – we can all wear capes! Create your own in this hands-on workshop.
Ever wanted your own superhero cape? Who doesn't? In this workshop, primary school age children are encouraged to reflect upon ideas of identity and culture to produce a symbol that resonates with them, and then print that symbol onto their very own take-home cape.
Artist and Kamilaroi/Gamilaraay man Dennis Golding explores notions of Indigenous cultural identity, and in this workshop he encourages kids to get creative and think about their own cultural identity and experiences, and what social factors drive their experience of identity. And then, they turn that concept of cultural identity into an awesome, powerful symbol printed onto calico capes to swoosh through the air.
Cost: $15 per child, $30 family ticket (up to three children)
Facilitator: Dennis Golding
Age: Primary school students
Dates and times:
Friday 15 and Tuesday 19 January 2021
10.30 am to 1.00 pm and 2.00 pm to 4.30 pm

Charcoal drawing workshop for big kids
Artists 16 and above learn how to make their mark with charcoal in this fine-drawing workshop with acclaimed artist Kristone Capistrano.
Ever wished you could capture the graceful and intricate curves of the human face or body with a series of simple lines? Award-winning artist Kristone Capistrano teaches older kids and adults the tricks and strategies for sketching graceful charcoal and pencil lines, focusing on line and tone.
Known for his monumental portrait work, Capistrano teaches participants how to render complex forms with a few simple, graceful strokes of graphite or charcoal. Elevate your art skills in one 90-minute workshop.
Cost: $30 each session
Facilitator: Kristone Capistrano
Age: 16+
Dates and times:
Saturday 16 January 2021
10.30 am to 1.00 pm and 2.00 pm to 4:30 pm

Printing with Nature
Kids take over the art studio to discover how to recreate the stunning details of nature with printmaking.
Explore – and recreate – the evocative colours and intricate detail of nature in this hands-on printmaking workshop with contemporary artist Daniela Cristallo.
Cristallo guides participants through the creative process of capturing the colourful splendour and detail of nature using your imagination and a variety of artistic materials.
Create your own masterpiece of the natural world, and then learn how to make professional prints you can take home, in two sessions for kids aged 5 to 12.
Cost: $10 per child, $20 family ticket (up to three children)
Facilitator: Daniela Cristallo
Age:
Morning session for ages 5 – 10
Afternoon session for ages 11 & 12
Dates and times:
Friday 22 January 2021
Morning session (ages 5 – 10): 10.30 am to 1.00 pm
Afternoon session (ages 11 & 12): 2.00 pm to 4.30 pm
Notes for parents and carers
All children under 9 years must be accompanied by a parent or carer. Due to COVID-19, only one parent or carer can accompany the child or group of children in their care. Please remember to book a free ticket
For our Family Worskshops, all adults and children participating need to buy a ticket
All materials are provided except for art smocks and aprons, so please consider bringing your own or wearing clothes that can get dirty if you're a messy painter or art maker!
Workshop numbers are limited to be COVID safe. All work stations will be separated to allow for social distancing, and hand sanitiser will be available
No food or drink is currently available for purchase at The Leo Kelly Blacktown Arts Centre. Please provide your child with a water bottle for their session