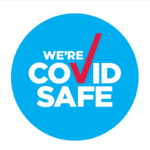 In line with NSW Public Health Orders, The Leo Kelly Blacktown Arts Centre will reopen to the public on Thursday 21 October.  There are conditions of entry, which are listed below and on signage at the entrance to our venue. We appreciate your cooperation.
Visitors must check in and show evidence of full vaccination status
Face masks are mandatory to be worn in the venue
Social distance within the venue
If you are feeling unwell, please stay home
If you are a close contact of Covid-19, are awaiting a Covid-19 test result, are required to self-isolate or suspect or have confirmed Covid-19, please stay home
How do I check in when visiting The Leo Kelly Blacktown Arts Centre?
When you arrive, use your smartphone camera to scan the QR code displayed at the entrance, open the link to the Service NSW app check-in, and follow the instructions.
Please show the confirmation screen to our staff as you enter, along with proof of your double dose vaccination status or medical exemption.
How do I check in if I do not have a smartphone?
If you cannot check in using your phone, another person you are with may use their phone to check you in.
Our staff are also able to check you in by obtaining your name and contact details when you enter the venue. Under the NSW Public Health Orders, we will retain a record of names and contact details for a period of 28 days. These records are stored confidentially and securely and used only for the purposes of tracing COVID-19 infections. This information would only be shared with NSW Health. You'll need to show printed proof of your vaccination status or valid medical exemption.
Can I visit if I have not received a Covid-19 vaccination or have only one vaccination?
In accordance with the NSW Public Health Order, it is a requirement that all patrons aged 16+ have received two doses of a COVID-19 Vaccination prior to entry. Proof of vaccination status or a valid written medical exemption will be required at entry. Children under the age of 16 are welcome to attend and do not require vaccination, however, must be accompanied by a fully vaccinated adult from their household.
Do I need to wear a mask at The Leo Kelly Blacktown Arts Centre?
Face masks are mandatory to be worn indoors, except children under the age of 12 years old. Staff will wear a face mask whenever dealing directly with members of the public, including outdoor seating. Please remember to bring and wear your mask during your visit at The Leo Kelly Blacktown Arts Centre. Only those that have proof of a written medical exemption will be exempt.
What hygiene measures do you have in place?
We are performing additional cleaning before opening, including frequent sanitisation of high use surfaces and materials. In addition, hand sanitisers and anti-bacterial wipes are provided at our entrances and activity areas.
Is there a restriction on visitor numbers?
Under NSW Government guidelines our venue capacity must not exceed one person per 4 square metres. We have signage throughout the building indicating capacity limits and social/physical distancing.
When will workshops, performances and Elders in Residence start again at The Leo Kelly Blacktown Arts Centre?
Our workshop program for Term 4 is online, you can find more information here. There are no performances scheduled for 2021, though we have exciting programs planned for 2022. Our Elders in Residence program is on hold for 2021.
I am not vaccinated or not ready to visit public indoor venues, how can I stay connected with Blacktown Arts?
There are many ways that you can stay connected to Blacktown Arts.
Follow us on Instagram and Facebook to be updated on the latest news and stories.
Join our Facebook group and connect with our community of artists
Watch our digital program
Check out some of the outdoor public art around the Blacktown LGA
I have other questions, how can I contact Blacktown Arts?
Please email the Blacktown Arts team at artscentre@blacktown.nsw.gov.au
Follow us on Facebook and Instagram for all the latest updates: @BlacktownArts
More information on COVID-19 is available from NSW Health health.nsw.gov.au.