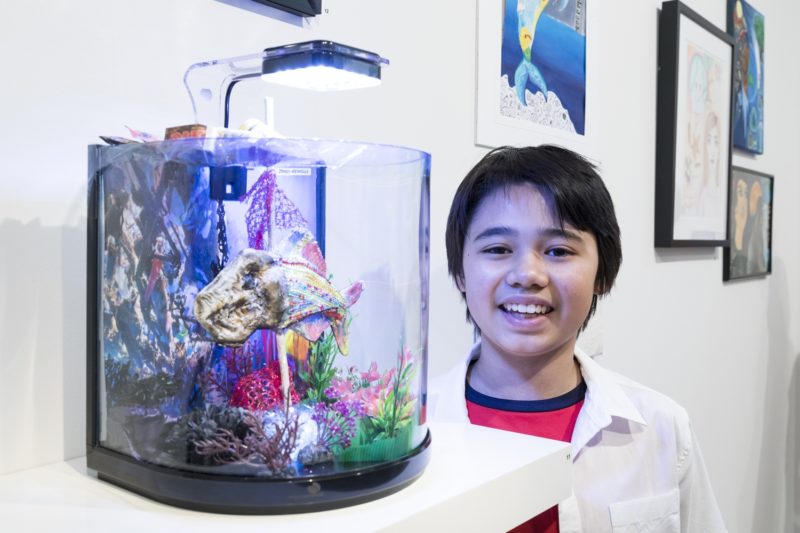 Young Artists Prize
We are celebrating the creativity of local young people with an environmentally-themed Young Artists Prize. Young people who live or study in Blacktown City and are aged 3 – 15 years are invited to enter work, with prizes up for grabs for all ages.
The artwork can be a drawing, painting, print, sculpture or ceramic piece. Artworks are displayed as part of the Blacktown City Art Prize exhibition from Saturday 28 November 2020 to Thursday 28 January 2021.
---
Theme
Staying Strong
The theme for 2020 is Staying strong, as we work to recover from the rough year we have had so far. We are asking young artists to make an artwork in response to one of these questions:
How can we recover our lost habitats after the destruction of the bushfires?
How can we strengthen our community and environment for the future?
2020 has been a year of challenges. In NSW, the bushfires burnt 5.4 million hectares of land and destroyed 25% of suitable koala habitat. This caused ash, debris, eroded soils and burnt matter to be washed into waterways, affecting water quality and causing fish kills.
Since the bushfires, COVID-19 has affected us all, often keeping us indoors. This helps us appreciate the importance of outdoor and natural spaces like local parks and bushland reserves. The pandemic has also sparked waste management issues, and in some cases, additional pollution, as dozens of gloves, masks and hand sanitiser bottles have been found in the ocean.
Faced with challenge after challenge, we need to become resilient and prepare for any future disruptions that may arise.
---
Key dates
Friday 13 and Saturday 14 November 2020, 9 am – 5 pm
Delivery date for artworks and entry forms
Saturday 28 November 2020 – Thursday 28 January 2021
Exhibition open at The Leo Kelly Blacktown Arts Centre
Open Tuesday – Saturday | 10 am – 5 pm
Saturday 5 December 2020, 11 am at The Leo Kelly Blacktown Arts Centre
Awards Presentation
Friday 29 and Saturday 30 January 2021, 9 am – 5 pm
Collection of artworks
Entry form
Please bring a completed entry form with you when you drop off the artwork. Entry forms will also be available at The Leo Kelly Blacktown Arts Centre if you do not have access to a printer.
Image: Azaya Janny-Reynolds, winner 2019 Young Artists Prize (Age 12) for Swimming Towards the Oceans Future Climate
The Young Artists Prize is proudly sponsored by Blacktown City Council's Environmental Services and Kids' Early Learning
The Blacktown City Art Prize is proudly sponsored by